SUNDAY APRIL 2, 2017 8TH ANNUAL MOTORCYCLE SAFETY AND AWARENESS RUN
8th Annual Motorcycle Safety and Awareness Ride and Bike Blessing
Long Island ABATE is a very active non-profit, 501(c)3 located on Long Island that helps to promote Bike Safety, lobby for motorcyclist's rights, and raise money for local Veteran Organizations. Long Island ABATE has no management costs. All of our members, including our officers are purely volunteer and do not take any compensation or salary for the work they do. Every dime we raise goes to support our mission, or in cases where we raise money for veterans, we donate every penny we raise directly to those organizations. Long Island ABATE does not take any percentage of that money raised for its own purposes.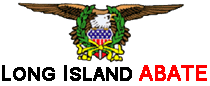 2017 Long Island ABATE Officers and Board Members
President : Jim Barr longislandabate@aol.com
Vice President : Nick LaMorte zuma51@aol.com
Vice President 2 : Nancy Greenseich nancygee66@gmail.com
Treasurer : Bill Quinn nevalnut@aol.com
Membership Secretary : Jackie Dalambakis dally_ho@yahoo.com
Recording Secretary : Roseann Barr liabate@aol.com
Sergent at Arms : George DeMott gdemott@gmail.com
Ride Captain : Joe Pizzo joepizzo18@yahoo.com
Products : Kathy Pfeil frstbofeastwick@aol.com
Legislator/Public Relations : Mike Lauro mlauro@optonline.net
Safety Officer : Mike Lauro mlauro@optonline.net
Chaplain : Gerry Waldron gerry.bfceli@gmail.com
Volunteer Coordinator: Andrea Peponakis profe239@aol.com
Newsletter/Website : Nancy Greenseich nancygee66@gmail.com
Please forgive the mess, while our Web Page is currently under construction
We apologize to all of our members for our recent downtime on the web page.  We were maliciously hacked.  The volunteer who managed our website for us was unable to get it working again. For the time being, we will be slowly getting the page and all of the old functionality working a little bit at a time.  We appreciate your patience during this challenging time for us.