Long Island ABATE is a very active non-profit, 501(c)3 located on Long Island that helps to promote Bike Safety, lobby for motorcyclist's rights, and raise money for local Veteran Organizations. Long Island ABATE has no management costs. All of our members, including our officers are purely volunteer and do not take any compensation or salary for the work they do. Every dime we raise goes to support our mission, or in cases where we raise money for veterans, we donate every penny we raise directly to those organizations. Long Island ABATE does not take any percentage of that money raised for its own purposes.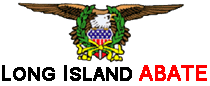 Please forgive the mess, while our Web Page is currently under construction
We apologize to all of our members for our recent downtime on the web page.  We were maliciously hacked.  The volunteer who managed our website for us was unable to get it working again. For the time being, we will be slowly getting the page and all of the old functionality working a little bit at a time.  We appreciate your patience during this challenging time for us.